So....you want a deal, huh?
So, you want a deal?
"Money for nothing and the chicks for free." Sounds good doesn't it. If it were only that easy. Ok, so part of it is true. But if you want big money or a long term career in music ....and better chicks....or dudes ...depending on your sex and/or preferences (Hey we are politically correct here.) it is hard work to succeed and your odds of accomplishing it are not very good.

There are some things you should know about us that will help you along the way.

American Eagle Recordings is one of the companies in the forefront of establishing a new model for the recording industry.

That's easy to say, but we have worked on establishing this model almost since the days our doors opened in 2002.

The music business is changing and evolving. There are opportunities for artists that never existed before. AER is poised to take advantage of those opportunities for our artists. And, we have the benefit of experience in the traditional music business.
One Foot in Traditional and One in the Future
Our experience and knowledge is in both the traditional methods of the past, and in the future of internet driven promotion of artists and music.

We have depth of experience in the traditional methods. Our founder was an artist at two major labels and a small indie. Working with Gene Autry (Republic Records) and Dick Clark (ABC Paramount) gave us an understanding of how the business works. Our founder has managed artists, produced and promoted recordings.

And we have used that knowledge successfully. Since 2002, every AER single we have released has charted nationally,

It is evident that the future of music/artists in targeting fans and marketing to them, as well as merchandising will be done on the Internet through direct marketing.

AER's president, Dr. Charles "Max" E. Million was one of the first 39 people in the world to earn the certification of Professional Direct Marketer. That expertise will serve AER and it's artists well for the future.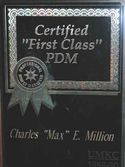 It's Your Music and Your Career
We believe that each artist should have a stake in the control of their destiny, in the direction that their careers are going.

We select artists that we can believe in , and where there is mutual respect. We provide the direction, education and development they need and see that they have the best in representation and management.

Note that we emphasize education in the above statement. The artist is involved in every step of the process, and given the knowledge they need to direct their careers for the long term.


Artists share in the decisions, financing and ownership of products that shape their careers and their future.
We are open to submissions from any music type or genre.

We are a label that still believes in artist and talent development. These have become a function of managers in the new music future. We started out as a management company and still are. We believe that an artist should be knowledgeable about all aspects ...not just the art of performance, but also the business principles that affect income and long term career building. We accomplish this through a management company, Million Dollar Artists.

As managers we quickly came to see the benefits for our artists to have a label to call home, whether you are trying to build a long term indie career, or using the AER label to build a back catalog before approaching a major and to build buzz to get the labels to sit up and take notice.

Million Dollar Artists handles artist management and representation for our artists that do not have management.

Through MDA we offer instruction about all aspects of the music business.... financial, distribution, recording, mastering, merchandising, radio and record promotion, video and television, traditional and viral marketing, public relations and publicity, touring, fan base and web site development and more.

Some artists come to us and already have a manager. That is OK with us. An extra head, heart and a pair of hands helps with what has to be accomplished. If you already have a manager we will work with that person to achieve a Strategic Plan to maximize your success and the long term income from your career.

Our agreements for management and recording are detailed, but based around a simple premise . We agree in advance on the percent of gross income that is paid to AER and MDA and what goes to you.

We don't double dip. The percentage of gross income we earn is the same whether you have a manager or MDA becomes your manager. Yes we have to do more work, but we're not greedy.

You as artist have a say in expenditures and controlling costs. And the beauty of our system is that we don't make money (except payment for expenses,) unless you make money.
Do You Measure Up?

If you have the talent,and the drive to support such joint effort to further your career, then perhaps American Eagle Recordings is the label for you.

We are looking for established artists who are serious about their careers, and earn a substantial portion of their income from their music and performances. Music is not a hobby, it is your life.

We consider submissions from all genre's of music, from anywhere in the world.

You have to be "great" to get our attention. Good just doesn't cut it. There are a lot of obstacles, even if you are great. There are too many obstacles if you are just good.

Past submissions have come from all the continents on Earth....and some we thought must have come from outer space. Being outside the US complicates things but doesn't necessarily rule you out...you never know till you try.
The Submission Process

We accept demos from all genre's of music. Follow the isntructions as they are written here and we will listen and consider your submission. Send us your stuff in any other way and we will not listen, nor consider you. We do not make exceptions to this.

We have this process because it helps us sort out what we get. Even though we tell peple not to send MP3's or links in emails, we still get 10-15 daily, enough that if we listended to them all we would not get anything else done. Part of our process is designed to learn whether or not you can follow instructions and will listen (and then do what we ask.)

Do Not send us MP3's in an email. Do not send us your MySpace links or web site links and say "tell me what you think" This will not get you considered. What we'll think is that you are an artist that doesn't follow instructions and are not an artist we would want to work with.

If you are SERIOUS in submitting a demo package and getting us to listen, please note the following:

Show me you are a professional. Put together a presentation that let's me know you are far above the norm. Make me want to work with you.

Send CD's. We're dinosaurs. We prefer to listen to CD's. Yes we have an Ipod and know what MP3's are. We get 10-12 submissions from artists each week from all over the planet, following our instructions and hundreds weekly that don't and are deleted without any look or listen.

Much of the listening we do is done in our car (because it is free time and allows us to really listen)  and its hard to drive, operate our laptop and find links at the same time. Humor us and send CD's. If we want to play your music for someone else in our process, we don't want to have them hunt for your music from links, MySpace etc. We give them a copy of the CD.

Lyrics.For any song on the CD that you send us, be sure to send the lyrics for that song.

Photos and Press Coverage. We would also like to see multiple photos of the artist and/or band. If you have had any press coverage or reviews of your performance or music be sure to send them, as well as a bio.

Prior to submitting your music, download the Preliminary Questionnaire attached to this site, and fill it out completely. This can not be filled out on line and submitted, you must print it out, fill it out and send it to us.  Send it along with your demo package. It's easy to get the questionnaire. Just put your cursor on the underlined Preliminary Questionnaire in this paragraph. Alternatively you may single click on the "Get Signed" button and the Preliminary Question link should appear like magic. Click on it to download the Preliminary Questionnaire as well.

We realize we are asking for you to do a lot of work. We do a lot of work before we sign an artist, and a whole lot of work after....so it is only fair that you have to work too. The questionnaire is a lot of work, if you do it right, but if you don't want to have to work...well let's just say some other label might be a better choice for you.

Please understand that it takes us a while to listen to everything that we receive....please don't be impatient. We get a lot of material to listen to, and we have other duties....like running a record label and management company to support the artists already on the label. Realistically, most of the time it takes two months from the time we receive a package to listen to it.

If we hear something that we like, we will contact you. Generally, we don't come to signing decisions quickly. We are highly selective and we take the time to get to know you. Our system isn't for everybody and we're very selective but if you think you measure up then GO FOR IT!