The Classic Rock artists Spanky and Our Gang featuring the Queen of Sunshine Pop, Spanky McFarland have come to an agreement with Million Dollar Artists for management and booking.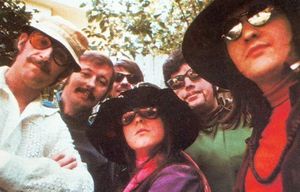 When the soul-stirring notes from "Like To Get To Know You" spring out of our radios, we're reminded of how the distinctive sound crafted by Spanky and Our Gang became an indelible imprint on the soundtrack of our lives.
Just as the first top ten hit, "Sunday Will Never Be The Same" did the year before, "Like To Get To Know You" has irresistible staying power - and that it hasn't been heard "live" for years makes this music's return such an anticipated event.
An incredible string of hits, 5 songs in the Top 40 within a year, a collage of strong melodies and brilliant harmonies that established Spanky and Our Gang as a pop sensation for the ages. Bruce Eder says on Allmusic.com "Their hits, particularly "Sunday Will Never Be the Same," "Lazy Day," "Like to Get to Know You," and "Give a Damn," were as much a part of the ambience of the middle to late '60s as any of the best known songs of the Mamas & the Papas with whom they're frequently compared."
Listening to Spanky onstage is like falling in love again and hearing "can't promise...can't promise...that I'll love you" creates that soul-stirring scenario via a lyric and vocal prowess that graced the stage with Gary Puckett, The Association & The Turtles on the Happy Together Tour. "Yes I would, if I could" McFarlane sings in "Like To Get To Know You", a song that her audiences relate to in a multitude of ways.
Spanky and Our Gang brings back the music you remember with a special something extra.